5 Amazing And Unknown Facts About Taj Mahal
5 Amazing And Unknown Facts About Taj Mahal
Taj Mahal is known to globe as one of the Seven Wonders of the World that stands tall being an inspiration of love to world and thus is called the Symbol of Love. We usually hear a lot of tales and stories about Taj Mahal. The actual construction, the love story for which it was erected, the making of Taj Mahal and plenty of others. Yet, there are plenty of Unknown Facts About Taj Mahal that stay unrevealed to the world.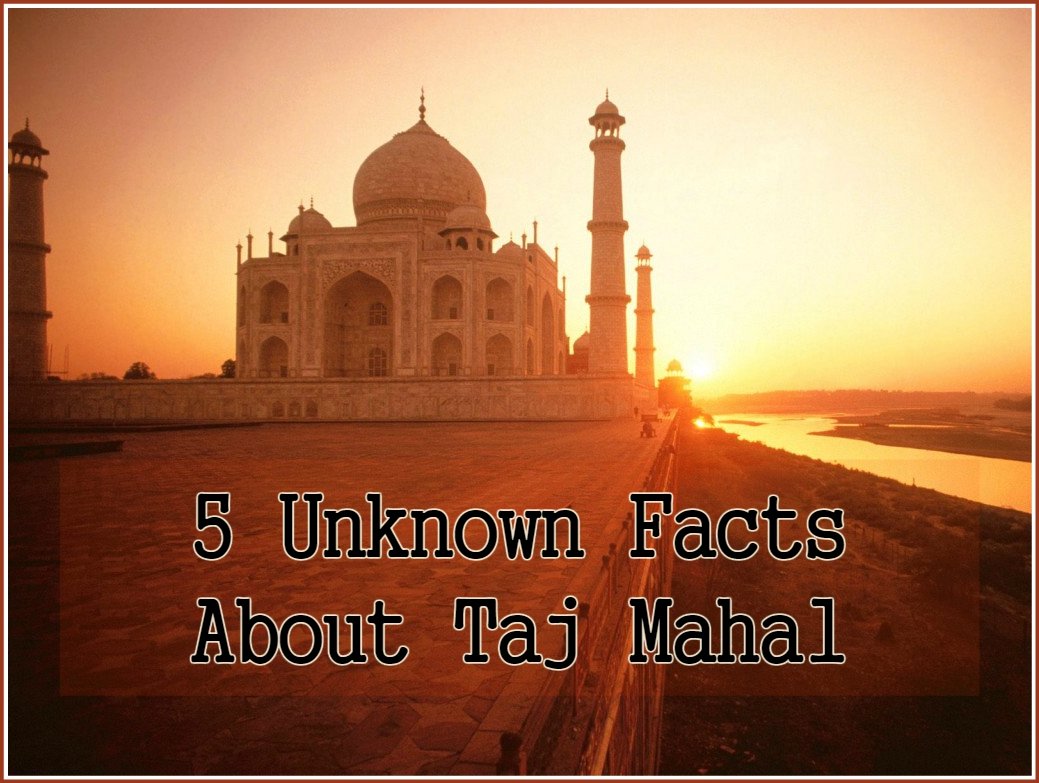 Now you must be thinking about what exactly those facts maybe. Because there's nothing about the Taj Mahal that is not known to the world. Right? So, you need not to think much about it because here I get you the
5 Amazing and Unknown Facts about the Taj Mahal
The Minarets of The Taj Mahal have tilt outwards to protect it from calamities like earthquake
While you would enter the Taj and if you notice it deeply, you will find that the four minarets of Taj Mahal are tilting outwards. With this tilt, the Taj will not be harmed by any case with any kind of calamities like earthquake especially. The mind of the artisans thus can be showed some gratitude.
---
Same Day Agra Tour Packages You Might Be Interested In…!
---
The interiors of Taj can blind any goblin with its grand inlay work
No doubt if you will be totally amazed with the work of more than 28 rare precious stones and semi precious stones that were sourced from Sri Lanka, Tibet, China and plenty of other parts of India  that are used for the inlay work right inside the Taj Mahal. Other facts states that because of these precious stones, the Taj was violated plenty of times in British Rule, yet in the late nineteenth century the restoration work was started.
Taj Mahal is taller than the Qutub Minar which is the Largest Minaret of Asia and Second Largest of the World
Now, this is something really amazing fact. Actually the height of Taj Mahal is extremely beautiful yet Qutub Minar in India is known to be the Tallest Minaret of Asia and Second Tallest of the World and of course, Taj Mahal's height beat the height of Qutub Minar.
How much did it Cost to Shah Jahan?
Well, as the above facts states, the building of Taj Mahal was not an easy task. Hence, the 20,000+ workers, the cost of precious stones and plenty of other expenses get add on. But I would like to leave you in shock for a few minutes by saying that this magnificent architecture costs around 32 Million Rupees in the time period of 1632 – 1653 which is today close to 1,062,834,098 USD.
Taj Mahal's color changes with the light
Now this is what is known as Stunning! Taj since is an example of extreme beauty and as it is made up of only White Marble, Taj can be thus seen in different colors in different time period. One can see the pinkish Taj in the early morning, Milky White in the evening and Golden when the Moon shines.
---
Same Day Agra Tour Packages You Might Be Interested In…!
---
With these 5 amazing and unknown facts about Taj Mahal that I just told you, I can assure you about your travel fascination to Taj Mahal will definitely increase. And to live the fascination, you definitely need to book your Agra Tour or Taj Mahal Tour. Live the beauty once in your lifetime, till then I'll see you again.